MARLIN PLUS DIVING CENTER BASE DŁUGIE AT THE LIPIE LAKE The Base is located at the end of the beach right by the lake shore, with a perfect entrance to the water from the shore or the pier. There are toilets, a place to change your clothes, mini bar, place to keep and dry your equipment. You can rent scuba and water equipment as BCD's, regulators, wetsuits, etc. also canoe, water bikes and windsurfing.
Our base is equipped with a new air compressor, 15 full diving gears, technical BCD's, dry suits, underwater camera and photo camera with lamps, oxygen, first aid kit, new 6 meter long boat with 25KM engine.
Under water we have 2 platforms at the depth of 4 and 6 meters perfect for any courses and exercises. There are as well ship wrecks at 5, 12 and 18 meters. Additionally we provide underwater map with all attractions.
Map of attractions (click to enlarge)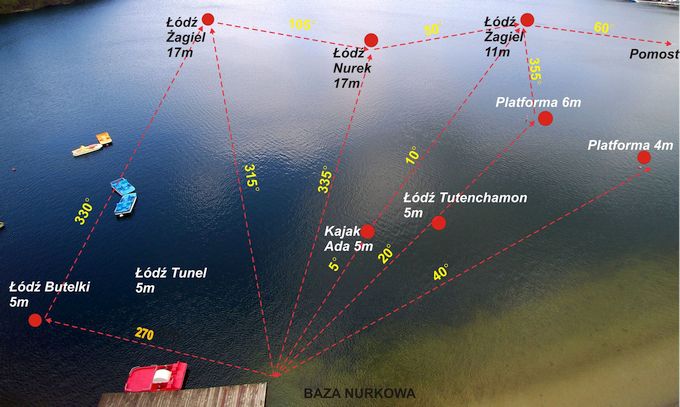 During the season in the city there are grocery shops, fast food, restaurant at the beach, disco, and beautiful large sandy beach with lifeguards and a big pier. Our Center is open everyday during the season. We are organizing courses in worldwide diving organization PADI with a stationary or weekends option. Full range of certificates from the base one Open Water Diver to Divemaster and specializations like: Deep Diver, Wreck Diver, Night Diver, Nitrox and many more. Locally we can organize bonding events with diving, sailing, windsurfing, paintball, canoe trip, Drawa river canoeing, boat trip through 3 lakes.
Lake Lipie's area is about 170 hectare, max. depth 42 meters, visibility from 2 up to 10 meters depend of the weather, 2 islands, it has water connection with Słowa and Osiek lakes. There is a very unique underwater life worth to see.
Długie is located by the main Gorzów Wlkp.- Gdańsk road, between Strzelce Krajeńskie and Dobiegniew cities.
If you love peace and quiet, forests and lakes, pure nature this is a place for YOU!!
We invite you to view photos of the Base and the town:

Location map:
Wyświetl większą mapę